Citizen Preparation Class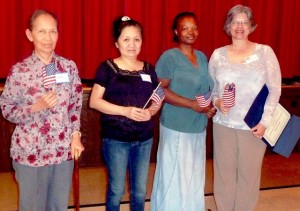 This class is for immigrants and refugees who are or will soon be eligible to apply for U.S. Citizenship. It helps prepare them for the Citizenship test and interview with a combination of ELL instruction and civics and history lessons. This free citizenship class takes place Saturday mornings from 10:30 a.m. to noon at Saint Paul United Methodist Church (11th & M Streets).
If you would like more information about Citizenship Preparation Class, call the Lincoln Literacy office at: 402.476.7323.
Citizen Preparation Class